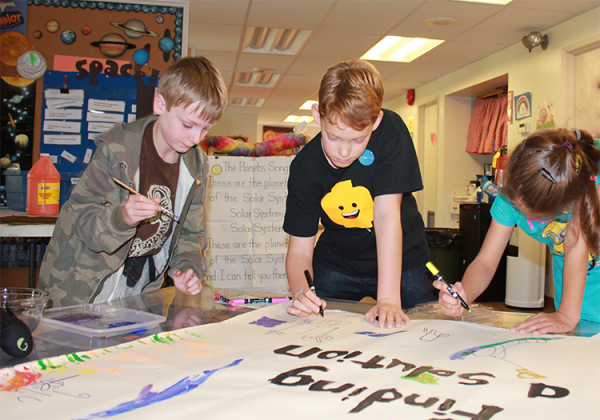 October 27th, 2015
Everyone can create positive change, here is how Rupert does.
I work from our off site office most days and do not get to interact with the amazing students at ArtsCalibre Academy. Usually, if I do come into the school space, it's for a celebration to take pictures, and the classroom is set up accordingly. With parents in attendance, the school is a hub of activity and energy. I had a different experience last week when I was invited into the classroom to hear a presentation by Franny and Rupert.
Rupert, 11, and his younger sister Franny have been working hard on climate change. In our classroom, Rupert introduced David Suzuki's Blue Dot campaign, a change in the way that we think about our ecosystems. Rupert believes that we have a right to a healthy environment and he wants our governments to recognize it. So he started his campaign with the local municipalities on the Island, asking them to sign the Blue Dot Charter, with a pretty good success rate. In 2015, The Starfish named him one of the Top 25 Environmentalists under 25.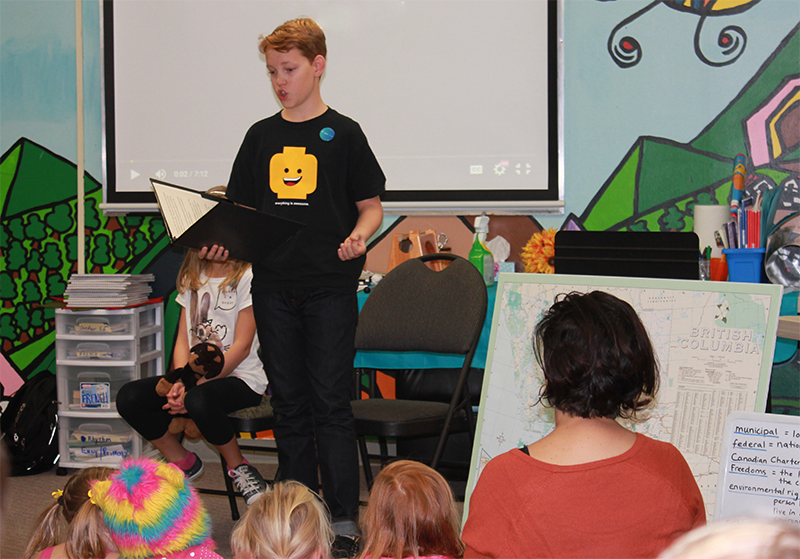 Rupert and Franny were fantastic presenters; extremely passionate about the topic, and their personal stories were inspiring. They called our students to action. They also gave our students the experience of being taught by a peer. Franny, 8, is younger than some of our students. That didn't stop her from impacting our students by sharing why she thinks we need to change legislation. Although they cannot vote, it did not stop them from going to city halls around the Island and talking to the elected councils.
In Rupert's words, "This matters to me because I'm doing it for my future. And other kids' future. The adults are making decisions that affect the children's future and some of the adults won't even be there to experience the consequences."
Looking around the room, I was questioning whether some of the students understood what Rupert and Franny were trying to do. That was until a blonde girl sitting on the floor put up her hand.
The eloquent reply from a voice on the floor made it hard to believe she is only in Kindergarten; 5 years old. "This is more of a statement than a question. Thank you for coming to our classroom, I didn't know about this and it really made a big impact on me. Thank you for working on this."
Her heartfelt response, brought most of the adults in the room to tears. It was a reminder that these little humans have an incredible awareness. They are little sponges soaking up their experiences and always willing to explore, learn, and seek to understand. Because children often get overlooked, the power of their voice when they decided to use it is HUGE.
After the presentation, the students collectively painted three pictures, centered around three themes, The Problem, Finding a Solution, and Our Future. Kids moved from banner to banner, adding wind mills and oil spills, drawing deer and clean rivers. Although climate change is too complex to be included in an environmental assessment in Canada, our students understood the risks. From the words of our young teacher who came for a visit that day, "You can never be too young to start making the world that you want."
Read a Blue Dot interview about Rupert and his adventures here.