Middle School
Students enrolled in ArtsCalibre's Middle School programs are encouraged to approach inquiry with unbridled curiosity, think unconventionally, question the norm and imagine and reflect upon new perspectives in order to build upon their creative capacities. The collective power of this learning environment fosters the development of passionate and thoughtful members of both the local and global community. At the heart of ArtsCalibre's core curriculum lies the ability to accommodate the student's natural curiosity. In using experiential, theme-based activities we are able to deliver outstanding education and instruction across all subjects.
ArtsCalibre's Philosophy & Approach
At ArtsCalibre Academy we strive to offer individualized programming for student which allows every student to achieve their personal potential. In their daily academics both middle and senior students will enjoy interest based activities delivered by specialized instructors.
Along with a highly qualified Fine Arts program, teachers integrate the Arts into teaching to increase rigor and develop a deeper and enriched understanding of the curriculum. This stimulates students intellect and peaks their curiosity, creativity and imagination. The beauty of these techniques is that they easily engage the students and immediately help create an environment for focused inquiry and cross-curricular learning opportunities. The instructional techniques used will focus emphasis on broader goals of problem solving and creative thinking through the creation of kinesthetic and interactive experiences.
The Arts are a meaningful part of the ArtsCalibre curriculum promoting creativity and self expression while teaching patience and teamwork. Exposure to the Arts expands the ability to look at issues from multiple perspectives and to invent solutions in unique ways.
For more information click on the Middle School Program below.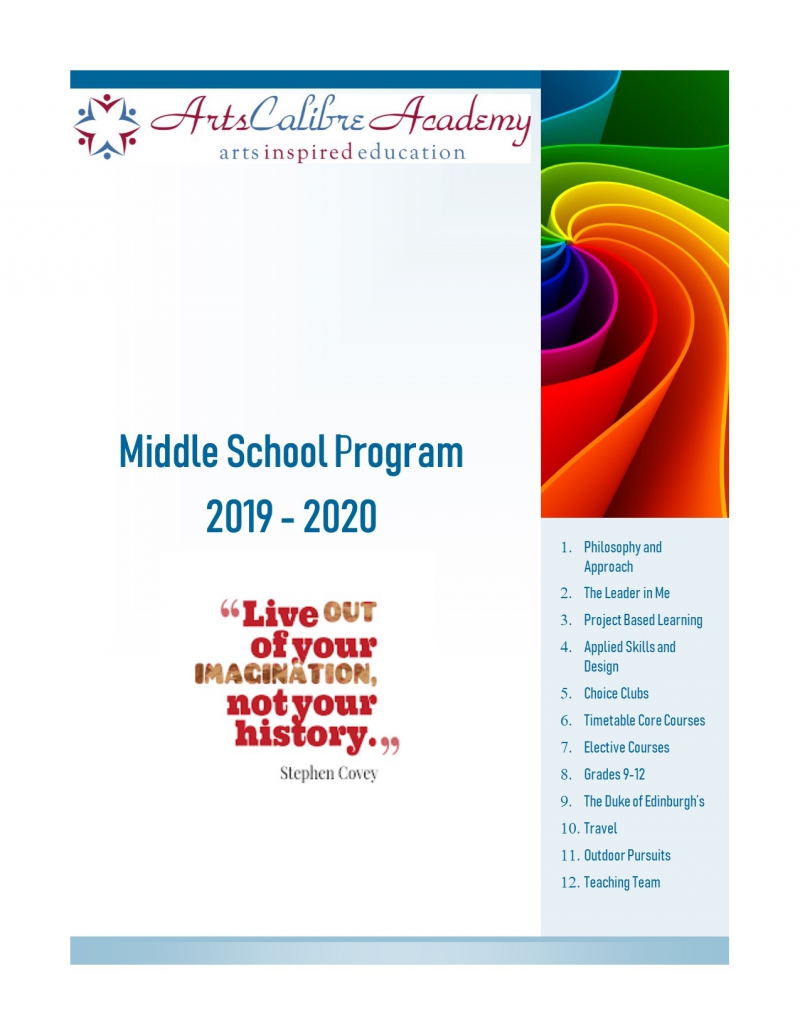 Enrollment
We suggest families book a tour or attend an upcoming open house before proceeding with registration, as the registration fee is non-refundable.

To book a tour, click here. For information on upcoming Open Houses, click here. To register, click here.