Teacher Profile
Getting up and personal with the science sisters!
When Miss Tara joined the teaching team in August 2011, we had no idea that we would be learning from her dynamic twin sister, Miss Sara as well! Miss Tara is our Science and Art teacher and the homeroom teacher for the South group (Kindergarten age). Miss Sara is our guest resident penguin expert and will be teaching many of the science lessons during the penguin theme this January. In this special report, we got to interview both Ms. Sara, who is visiting from Antarctica, and Ms. Tara. Although these wonderful women look very similar, they are very different!
Meet Ms. Tara at our Elementary Open House on Thursday, January 21 from 4:30-6:00pm. Unfortunately, Ms. Sara has an important conference call about penguin migration and will not be able to attend.
1. What 3 items could you never live without?
Tara - Chocolate, Coffee and Camping
Sara - Puffy Socks, Peppermint Tea and Penguins

2. Have you ever had a near death experience? Were you scared?
Tara - As a young girl I was nearly mauled by a cougar and as a teenager came within meters of a black bear, both while camping in the "wilds" of Vancouver Island.
Sara- Once...at the Oak Bay Tea Party....I nearly fell out of the ride called the "Sky Master"

3. What did you get in trouble about when you were kids?
Tara: Never.
Sara: Always.
4. What was your favourite subject in school?
Tara - ART throughout my school years and ENGLISH in high school and university. Believe it or not, but it was my kindergarten teacher, Mrs. Owens who inspired my artist within. I will forever treasure the encouragement and belief in my unique abilities....her spirit inspires me to this day!
Sara - SCIENCE. My most memorable experience being an aquarium of tadpoles that came to life in my grade four classroom in Victoria. Observing life from tadpole to toad was a very formative experience, and one that keeps me in Antarctica witnessing daily the cycle of life.

5. What does mindfulness look like for you?
Tara - To be completely present in the moment. To stop and focus completely on a task, look deep into the eyes of the person I am sharing something with or to sink deeply into the ground and just be with my surroundings. This is the ultimate and what I strive for both for myself and those around me. Mindfulness to me changes; it ebbs and flows with the needs and wants of each day. To be present in what I am currently doing is my goal.
Sara - Mindfulness to me is an awareness, of the world, of myself, and of the needs and wants of all those I share space with. It is sort of like tuning in to a language that we all speak with out words.

6. Tell us about a time when you failed at something. What did you learn?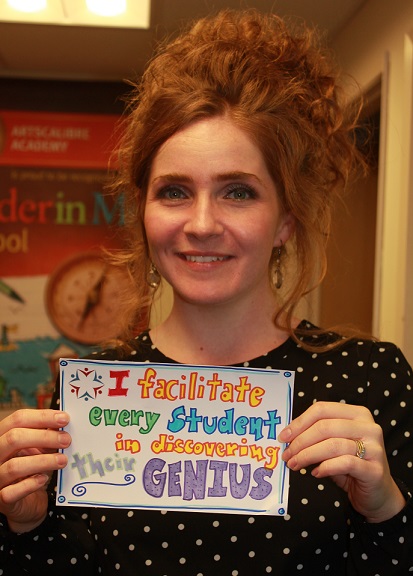 Tara - Many things in my life have come easy, but public speaking has been a struggle for me for many years. I recall a few times throughout my schooling when my nerves got the best of me and I was unsuccessful at a presentation. This challenge continues to be a work in progress and each time I do speak to a large group of adults, I grow and learn. It is the opinion of yourself that is the only opinion that matters, and there is always a way to what you seek. Detours are just an opportunity to learn.
Sara - I failed my very first driving test as a teen...and while it took me almost 2 years to overcome my fear of failing again, I went back, passed and got my licence. And while I am licensed to drive in B.C. now...I still prefer tobogganing with the penguins.
'Becoming' the theme or topic of study is my teaching passion. It is in the experience that I invite and create with my students that the genuine magic of learning comes to life. Such engagement in material can be found in the instant retention of facts and information, for rather than asking the students to simply listen and apply what the teacher speaks of, the students themselves guide and interact with the material through a hands on experience. A thematic lesson that presents learners with cognitive, emotional and physical interactions with materials intrigued the mind and body and engaged with a variety of learning needs. When facts and information are presented in a tangible way, they actually become REAL things that are enjoyed, digested and quickly retained through enjoyment rather than rote memory. It is then the experience itself that becomes the learning. As a teacher, I believe it imperative and natural to model enthusiasm and excitement in your teaching topic. The creative minds at ArtsCalibre thrive in such an environment. When you, the teacher, are charged by the spark of passionate interest, your students are surely drawn to your lesson - it becomes "our" lesson...and the focus of both teacher and student is on the exploration of a concept, fueled by the synergy of a common goal - to live, breath and become the learning journey.
-Miss Tara