Junior Kindergarten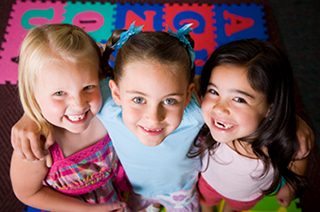 Building upon the success of our successful and innovative Preschool, ArtsCalibre Academy launched the first Junior Kindergarten class in 2011.
Junior Kindergarten at ArtsCalibre offers dynamic and diverse programming that will challenge the students academically, while at the same time encouraging the exploration and development of their own unique artistic skills and talents. Both staff and students are challenged to consistently bring their best as they work to inspire an atmosphere of creativity, self-discipline, integrity and dedication.
Our 3 hour classes focus on developing strong phonetic and numerical skills through thematic teaching. Our small class size (maximum 10 students) allow the space for students to be individuals and embrace the notion of being actively involved in their learning. As with all of our programming, Art is the vehicle that excites the learning and retention.
An added benefit to enrollment in our Junior Kindergarten program is the opportunity for integration within ArtsCalibre's broader school community. With the Jr. Kindergarten embedded in our elementary campus students will have numerous opportunities for engagement with their school-mates, participation in after-hours programming and inclusion in school Arts productions and events.
Our program is taught by a qualified Early Childhood Educator (ECE), and is assisted on occasion by other on-site BC-certified teachers. The Jr. Kindergarten program runs from September to June of each school year, and closely follows the Greater Victoria School District's school year calendar.
Schedules and Rates
Our Jr. Kindergarten program is flexible to fit your child's learning needs and your schedule (we suggested 2 or 3 days split up throughout the week). With multiple scheduling options, including: 1/2 days, *AM/PM day sessions, extended hours as well as after school programming, ArtsCalibre is making school readiness easier for today's families.
Morning Jr. Kindergarten: 8:30 – 11:30AM, Monday – Friday.
Afternoon Jr. Kindergarten: 12:00 – 3:00PM Monday – Friday.
* Students registered in AM/PM day programming receive one supervised, non-instructional, lunch/play hour between 11:30AM – 12:00PM.
Tuition Fees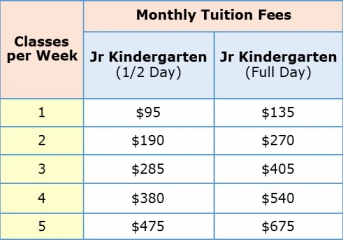 Before School Care
Early morning drop-off (8:00AM) is available to ArtsCalibre families. Please contact blair@artscalibre.ca for more information.
After School Programming
ArtsCalibre's after school programs are open to students enrolled in Jr. Kindergarten. Our programs are intended to create enjoyable and enriching experiences that provide opportunity for positive social interaction, while at the same time casually reinforcing the core values of our education experience in post-classroom environment. For detailed program information, including schedules and fees, click here.
Enrollment
We suggest families book a tour or attend an upcoming open house before proceeding with registration, as the registration fee is non-refundable.
To book a tour, click here. For information on upcoming Open Houses, click here. To register, click here.