Junior Kindergarten
RECENTLY RELEASED! See our Virtual Tour below.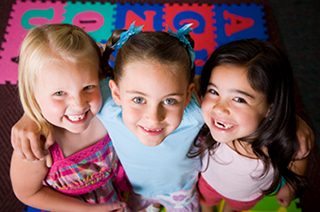 Building on the enormous success of our innovative Preschool, ArtsCalibre Academy launched its Junior Kindergarten (JK) in September of 2012.
Our JK is a dynamic and diverse program which challenges young students academically, while fully encouraging the exploration and development of their own unique skills and talents. Both staff and students consistently "bring their best" as they work in an atmosphere of creativity, self-discipline, integrity and dedication.
Our three hour, half day classes focus on developing strong phonetic and numeric skills through thematic teaching. Our small class size (maximum 10 students) provides the space for students to be individuals and to become actively involved in their learning. As with all of our educational programs, Fine Arts are the vehicle which facilitates learning and retention with extraordinary results.
An added benefit to children's attendance in our Junior Kindergarten program is the opportunity for integration with ArtsCalibre Academy's broader school community (Standard Kindergarten, Grade 1 and up). With the JK physically located within our independent school campus, students will have many opportunities for productive engagement with their older schoolmates. This includes participation in both after school programming and regularly scheduled Arts productions and events.
Our JK program is led by an experienced and fully qualified Early Childhood Educator (ECE), joined on occasion by our Educational Assistants and BC-certified teachers. JK classes run from September through June of each school year, closely following the Greater Victoria School District's annual calendar.
Schedules and Rates
Our program is extremely flexible. With multiple scheduling options including half day (AM or PM) and full day* sessions, before/after school care and specialized after school classes, there are many ways to accommodate our busy families' schedules.
Morning JK: 8:30 to 11:30 AM, Monday through Friday.
Afternoon JK: 12:00 noon to 3:00 PM Monday through Friday.
* Students registered in full days (AM + PM) are supervised during their lunch break from 11:30 AM to 12:00 noon.
Base Tuition Fees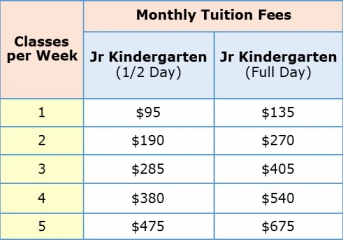 Before School Care
Early morning drop off at 8:00 AM is available to ArtsCalibre families for a reasonable additional fee. Please contact extra-curricular@artscalibre.ca for more information.
After School Programming
Our after school programs are also open to students enrolled in Junior Kindergarten. These classes are designed to create enjoyable and enriching experiences which provide many opportunities for positive social interaction, while informally reinforcing the core values of our educational philosophy. For detailed information please go to our Before/After School (Extra-Curricular) Programs page.

Virtual Tour
Take a few minutes to view our outstanding facilities, at 3 very unique Saanich locations:
* - Science, Technology, Engineering, Arts and Math
See also the Virtual Tour for our Preschool for 3 and 4 year olds, centrally located within the Fine Arts Wing of the Cedar Hill Recreation Centre at 3220 Cedar Hill Road.
Enrollment
We suggest that families schedule a tour or attend an upcoming Open House before proceeding with registration, as our registration fee is non-refundable.
Return to top of page