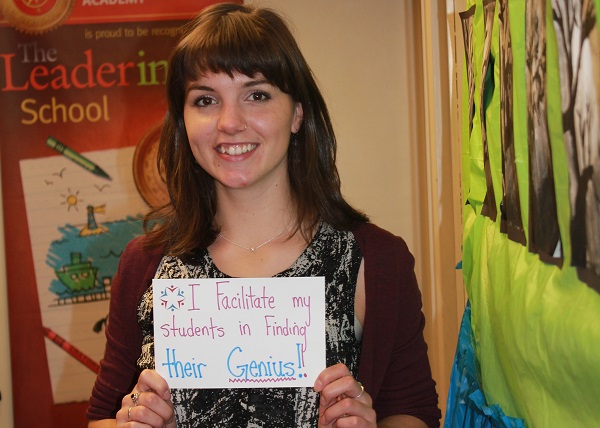 November 6th, 2015
Ms. Emily has had a lot of exposure to different schools, having moved to eight different schools as a student. "I was at a new school every year until Grade 8." says Ms. Emily, "It taught me a lot about teachers and schools. Like how in every school there was something that was popular, but it was never the same between schools; whether it was Pokemon, marbles, choir, or a specific sport."
Ms. Emily's favourite teacher from school was her Grade 5 teacher, Mr. Lightfoot, when she was at Fulford Elementary School on Saltspring Island. "We did so many cool projects and activities that I remember so vividly. He allowed us to do things like cover our desks with paper so we could draw on them. We used a real bandsaw to build things and even made perogies in class. He made learning so engaging and fun that I wanted to reverse roles and be the teacher to recreate the kind of learning I had in his classroom."
Ms. Emily got to see Mr. Lightfoot again as a peer at her first Professional Development Day of her teaching career. It meant a lot to her to get to see him in this light, as she was stepping into the new chapter of becoming a teacher.
"That is probably the most challenging part of being a teacher," she says, "planning a lesson seven times over but still not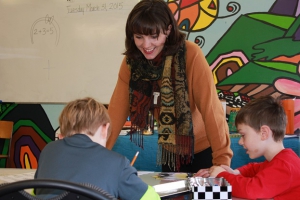 being able to get it right. Then you teach it and it doesn't go exactly the way you want it to. So then you're left reflecting and changing it again to make it better for the next time around."
Teaching the whole child is very important to Ms. Emily and one of the many reasons she is at ArtsCalibre Academy. She really enjoys the physical and mental benefits of Health and Gym. "I love watching the connections that my students make about how their bodies react to physical exercise in the gym. They describe how they feel their heart rate increase, feel thirsty or even sweaty from exerting themselves. I like that they are excited about fitness. I want to teach them to be fit for life."
The Mindfulness approach to education moves beyond Gym class though. "We use the 'chime in' technique in class and it is very successful every time. It gives a chance for everyone to pause, take a break and focus on being present-even for a moment. Afterwards, when the students share how they are feeling, they use words like melty, calm or tired. It is even evident in their body language. Through mindfulness, they have the tools to take any upset or frustrated energy and transform it into calm or grounded energy so that they can be successful in their learning."
When Ms. Emily is not at school, or planning another amazing lesson, she enjoys having a relaxing day for herself. "My perfect day looks like waking up at home, having some coffee, then spending time working on a painting. In the evening she enjoys going out for dinner with friends, doing some hot yoga and finishing the day off with a bubble bath!"
There is something about teaching that keeps Ms. Emily excited to come in everyday. "Seeing that ah-ha moment, when the student shows that they get the concept and get really excited about it, that is why I love it. I want to be someone who opens the door to learning, showing them that learning is fun and exciting, so they will always want to learn. I want to inspire lifelong learners!" She laughs.
Ms. Emily sees her job as facilitating learning through mindful practices that teaches the whole child instead of just academia. She uses The Arts as a vehicle to give space for students to express themselves. In return for sharing about herself, she has a question for ArtsCalibre Parents:
What was it that made you decide to enrol in ArtsCalibre Academy? Is this school shifting your paradigm of education?